Thinking of coming to Gatlinburg during the month of February? You're in for a real treat!
This beautiful time of year is one of the most underrated months to visit Gatlinburg. With gorgeous winter weather and less visitation, this month is the ideal time to explore the Great Smoky Mountains without the crowds!
Whether you're planning a romantic Valentine's Day getaway or if you're hoping to experience winter in the Smokies, you won't want to miss out on your own February vacation to Gatlinburg!
To get your wintertime trip started, check out these top 3 reasons to visit Gatlinburg in February!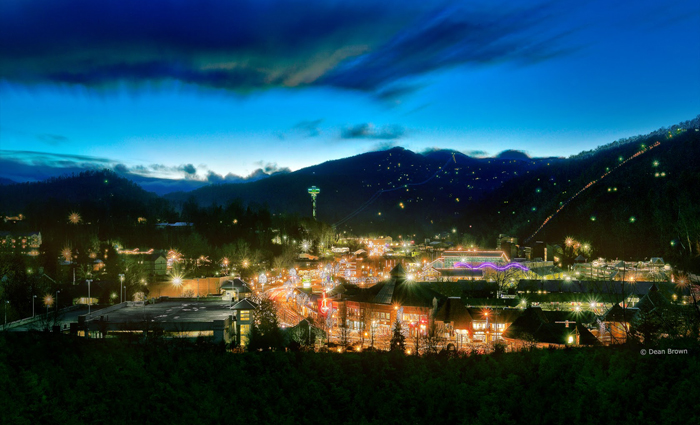 1. Beautiful February Weather in Gatlinburg
Here are the average temperatures you'll see during the month of February:
Avg. High: 53°F
Avg. Low: 28°F
Since winter is in full swing in the Smokies, all the leaves have all fallen from the trees. As a result, visitors to the national park enjoy clearer views of the mountains during this month, since the foliage no longer obstructs mountain views.
Does it snow in Gatlinburg in February?
Yes, in fact, February is one of the best months for seeing snow in Gatlinburg. On average, Gatlinburg sees an average of 2 inches of snow during the month of February. If you're lucky, you might be able to see an even bigger snowfall during your visit!
Even if snow isn't in the forecast for Gatlinburg, there's a good chance that you can find snow high in the mountains in places like Newfound Gap and Mt. LeConte. So if you want to see a beautiful winter landscape, simply take a scenic drive in the Great Smoky Mountains National Park.
2. Enjoy Fun February Events
Sweetheart Month at the Titanic – Planning to make a grand romantic gesture during your trip to the Smoky Mountains? The Crew at the Titanic Museum in Pigeon Forge is here to help! During Sweetheart month at the Titanic, you can reserve the beautiful Grand Staircase of the Titanic for a surprise proposal, wedding ceremony, or vow renewal.
The Lights of Winterfest – During the entire month of February, you can see Pigeon Forge, Sevierville, and Gatlinburg decorated with millions of beautiful holiday lights. From intricate moving displays to simple snowflake lights, you can feel the magic in the night air during the beautiful Winterfest event in the Smoky Mountains.
Valentine's Day in Gatlinburg – Excellent restaurants like The Melting Pot, The Peddler, and The Park Grill offer Valentine's Day Dinner specials. Just be sure to call ahead for reservations!
3. Fun Things To Do in February in the Smokies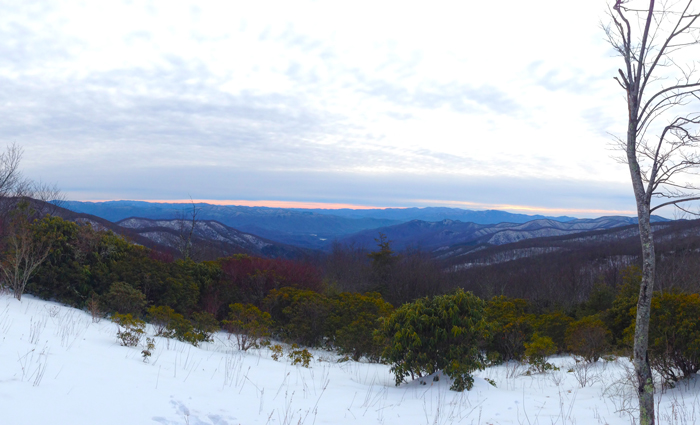 Go Skiing – February is probably the best month for skiing in the Smoky Mountains. Consistently cold temperatures ensure that Ober Ski Mountain is able to make snow on the slopes. Additionally, you can enjoy other snow activities at Ober like snow tubing and ice skating at their indoor rink! Needless to say, the month of February is the perfect time for a ski trip.
Go For A Winter Hike – Since February is one of the lowest months for national park visitation, this month is the perfect time to visit popular sights like Cades Cove and New Found Gap. Not only can you enjoy these beautiful sights without the crowds, but you can also expect to see less traffic on busy hiking trails like Abrams Falls and the A. T. from Newfound Gap. As an added perk, you might get to enjoy wintertime scenery like snowy mountain tops and rime ice frozen to trees.
See Frozen Waterfalls – One of the most dramatic sights in the national park during winter is frozen waterfalls. Beautiful waterfalls like Ramsey Cascades, Laurel Falls, and Meigs Falls become encased in stunning ice formations after cold nights in the Smokies.
Check out Indoor Attractions – If you need to get out of the chilly mountain weather, there are plenty of excellent indoor attractions like Ripley's Aquarium of the Smokies, Gatlin's Fun Center, and The Star Cars Museum. Better yet, these excellent attractions are likely to be less crowded during February.
Be sure to check out other fun wintertime activities during your getaway to Gatlinburg!
Final Thoughts
February is definitely a charming time of year to experience the Smokies. With beautiful glowing holiday lights and fewer visitors, this month is the perfect time to explore Gatlinburg without the crowds.
Better yet, you can also find a great deal on your cabin! Since there are fewer visitors this time of year, it's easy to find a beautiful private cabin rental for an excellent nightly rate!
Ready to start planning your wintertime getaway to Gatlinburg? Call our helpful reservations staff today at (865) 436-5031 or browse our cabins that are available for February!
Find Your Gatlinburg February Cabin!
Written by Hayden Brown