Gatlinburg, and the main gateway to the world-famous Great Smoky Mountains National Park is home to lots of excellent attractions, but which ones should you visit on your trip?
To help you get the most out of your vacation, we've made this guide of the 10 most iconic, must-see attractions in Gatlinburg that you don't want to miss in this popular vacation resort town!
10 Can't-Miss Gatlinburg Attractions
1. Anakeesta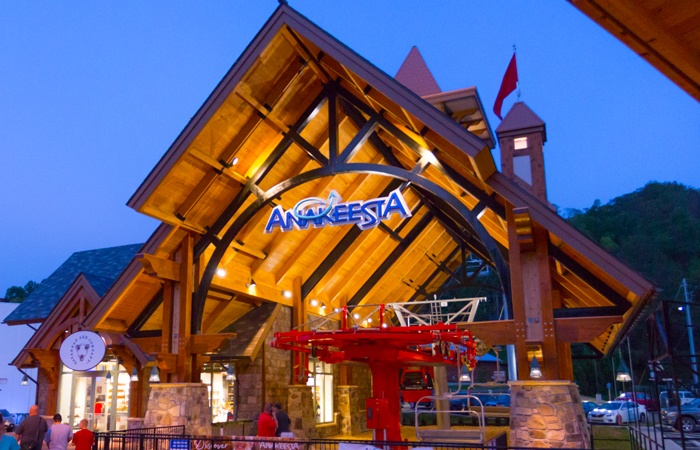 As one of the newest attractions in Downtown Gatlinburg, Anakeesta is a family outdoor adventure park that's made a big splash in the Smokies.
The Anakeesta experience begins with taking a chairlift or enclosed chondola ride to a mountaintop location that boasts beautiful scenery and stunning mountain views. Once you arrive, you can enjoy fun activities like:
The Tree Canopy Walk
Dual Racing Zip Lines
A Mountain Coaster
Gem Mining
In addition to these adventures, you can also enjoy some shops and restaurants at Anakeesta. There are even future plans for an outdoor amphitheater to host musicians and performers. With fun outdoor attractions, beautiful scenery, and mountain views, Anakeesta is an excellent Gatlinburg attraction you don't want to miss.
2. Ripley's Aquarium of the Smokies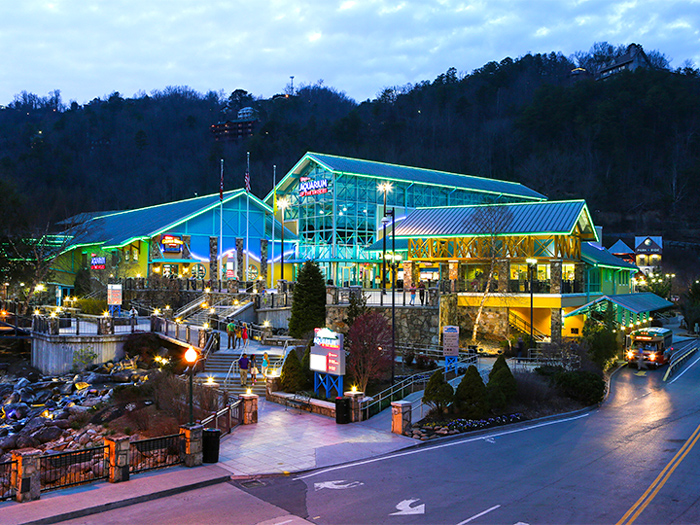 This excellent aquarium in Downtown Gatlinburg earns rave reviews year-after-year making it a must-see attraction in the Smokies.
In addition to being a delightful aquarium with fun, interactive exhibits for the whole family, Ripley's Aquarium of the Smokies also provides unforgettable sights like:
The Shark Lagoon – Travel under the sea by walking through a 340 ft. underwater tunnel as large sharks, a green sea turtle, a moray eel, and a variety of fish swim above.
The Penguin Playhouse – An excellent Penguin exhibit complete with tunnels and viewports to explore these playful, charming birds up close.
Touch A Ray Bay – Feel stingrays as they glide effortlessly through a shallow tank.
In addition to these classic experiences, Ripley's Aquarium in Gatlinburg also brings in new exhibits every couple of years that showcase topics like famous shipwrecks throughout history.
3. Dollywood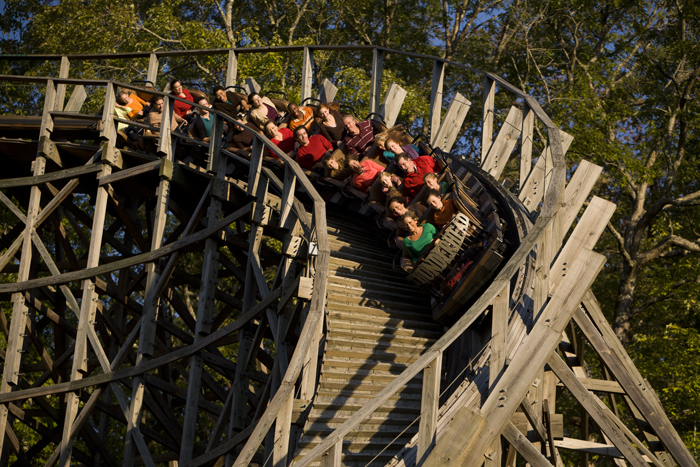 Located in Pigeon Forge, this popular Smoky Mountain theme park owned by country legend Dolly Parton is known for being one of the most family-friendly and well-run theme parks in the country.
From its professional, caring staff to its beautiful landscaping, the entire experience of a day at Dollywood is a true delight.
While Dollywood offers fun attractions like a coal-powered train ride, live music shows, and old-time crafts demonstrations, but this classic theme park also delivers the goods when it comes to offering incredible thrill rides you don't want to miss.
Here are just a few of the biggest and best coasters at Dollywood:
Wild Eagle – Hailed as the first "wing coaster" in the US, Wild Eagle offers big loops, plenty of air-time, and impressive views of the Great Smoky Mountains as you soar through the sky.
Lightning Rod – Currently the fastest wooden roller coaster in the world, this unique launch coaster takes you on a wild ride through the rolling hills of East Tennessee.
Mystery Mine – This memorable indoor/outdoor coaster features great special effects, fun surprises, and a great ride.
Thunderhead – Feel the roar of an old-fashioned wooden roller coaster with big drops, g-force turns, and an exhilarating ride with all the charm of a classic theme park experience.
4. The Gatlinburg Space Needle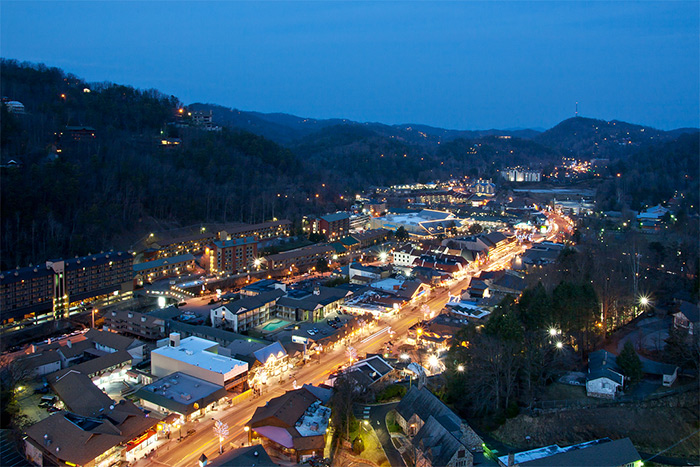 Located in the heart of Downtown Gatlinburg, the 407' ft Space Needle is an excellent observation platform for viewing Gatlinburg and its surrounding mountains.
The Space Needle is also home to an arcade, laser tag, a hurricane simulator, an escape game, and the Iris Theater that features magic and illusion shows.
Better yet, you can use your ticket to the Space Needle for a 2nd trip. Many guests will buy a ticket to enjoy the 360° view during the day and then revisit the observation platform at night to see the lights of the city after sunset.
5. Ole Smoky Moonshine Distillery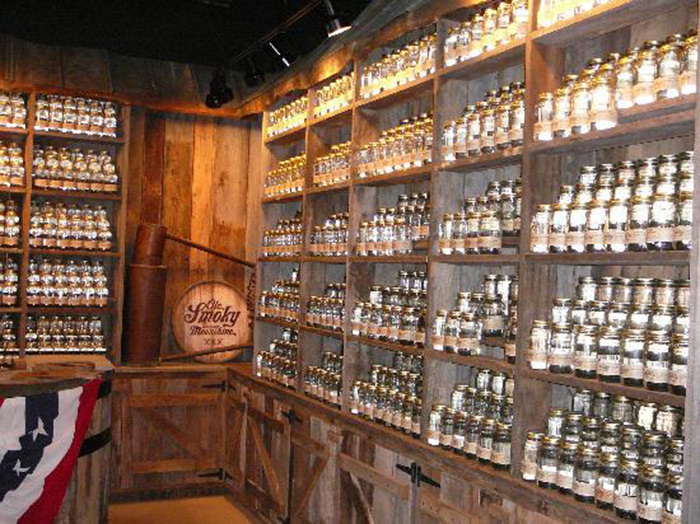 Live music. Moonshine tastings. Distillery Tours. What's not to love?
You can explore a bit of classic, Appalachian culture with a trip to the "Moonshine Holler" in Gatlinburg. As the most visited distillery in America, Ole Smoky Distillery in Gatlinburg does not disappoint.
As soon as you step on the premises, you can smell the sweet smell of fermenting grains. Better yet, distillers are on site, so they are on-hand to answer any questions you might have about moonshining in East Tennessee.
For $5 dollars, you can enjoy samples of classic corn whiskey, Moonshine Cherries, Blackberry, Apple Pie, Peach, and other seasonal flavors that aren't available in stores.
With plenty of outdoor seating and a stage for live music, the "moonshine holler" is a great place to relax on a nice afternoon in Gatlinburg.
6. Ober Gatlinburg Ski Mountain
As Tennessee's only ski mountain, Ober Gatlinburg is another must-see destination in Gatlinburg.
During the winter season, you can enjoy a day of skiing the slopes of Mt. Harrison just outside the Great Smoky Mountains National Park.
Though Ober is the best place to enjoy snow sports like skiing and snow tubing, it has offered more year-round activities since it first opened in 1962.
Here are just a few of the activities you can experience at Ober any time of year:
Indoor Ice Skating
Ice Bumper Cars
Wildlife Encounter Exhibits
A Mountain Coaster
An Alpine Slide
3 Water Rides
A Rock Climbing Wall
The Amaze'N Maze
Mini-Golf
A Scenic Chairlift
7. The Island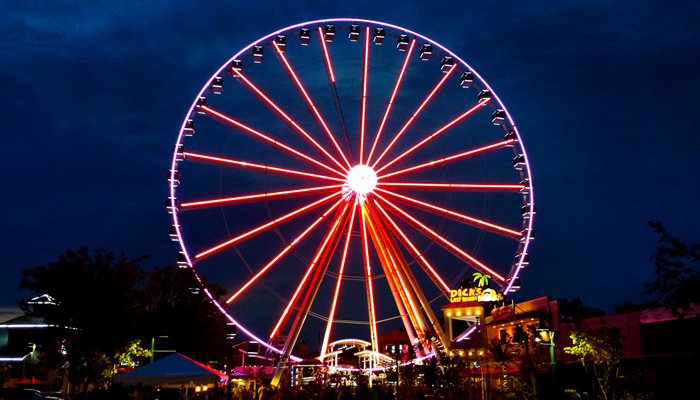 Located on a small island formed by a fork in the Little Pigeon River, The Island in Pigeon Forge is a great shopping, restaurant, and attraction destination in the Smoky Mountains.
From the synchronized fountain show to the iconic, 200 ft. tall Great Smoky Mountain Wheel, there's a lot to do and see at the Island. This unique attraction is even decorated for the holidays, so it's a joy to see any time of year.
8. The Old Mill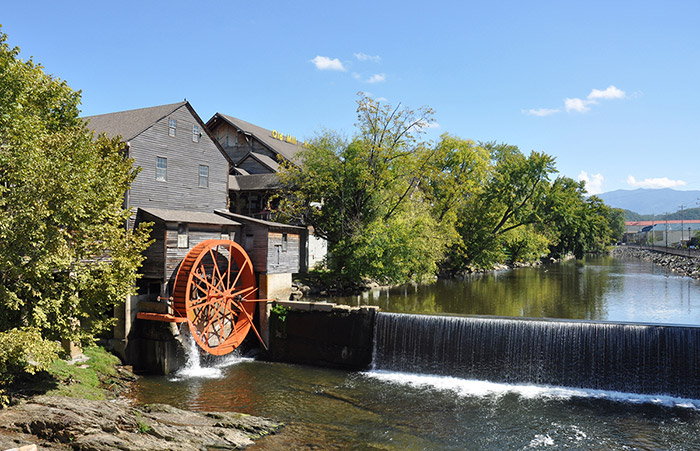 Built in 1830, The Historic Old Mill is the oldest remaining building in Pigeon Forge and an interesting landmark to see during your visit. Since Pigeon Forge's days as a quiet farming community, the Old Mill has been a center of life in the Smoky Mountains.
Today, you can tour this working grist mill that still produces flour and cornmeal for the Old Mill Restaurant. You can even take a tour of the facility to learn about this bit of living history and hear about what life was like for the early settlers of the Smokies. Be sure to bring a camera, since the working water-wheel that powers the mill is arguably one of the most iconic sights in all of Pigeon Forge.
You can also check out the Old Mill Square that has several nice shops and restaurants, including the Old Forge Distillery where you can sample small-batch moonshine right in the heart of Pigeon Forge.
9. The Titanic Museum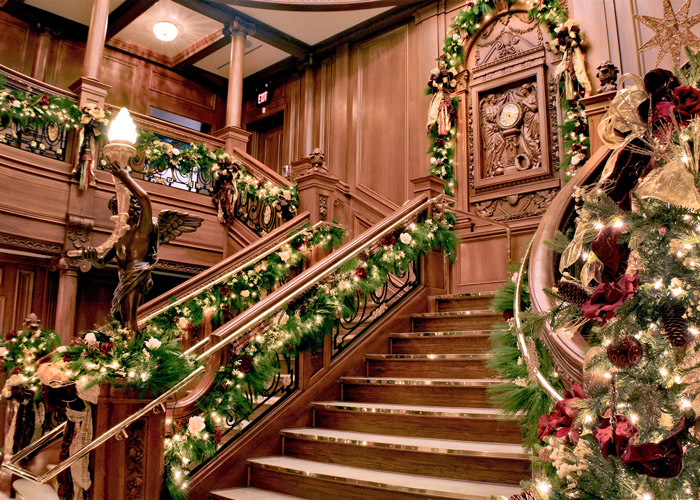 With over 400 artifacts, the Titanic Museum in Pigeon Forge is the largest permanent museum about this fateful shipwreck in the world. Housed in a large ship built to scale of the Titanic, this interesting attraction is filled with interactive exhibits that tell the story of what it was like to be a passenger aboard the Titanic.
From the million-dollar replica of the Titanic's Grand Staircase to recreation to an exhibit where you can feel the slope of the Titanic's deck while it sank, this immersive attraction in the Smoky Mountains is well worth a visit.
10. The Roaring Fork Motor Trail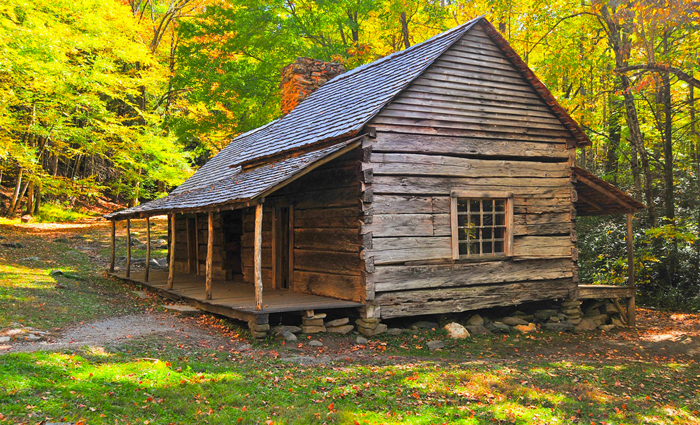 This popular scenic drive through the Great Smoky Mountains National Park begins and ends in Downtown Gatlinburg, so it's the perfect way to explore the Smokies if you only have a short amount of time.
From historic cabins like the Bud Noah Ogle homestead to popular hiking trails to waterfalls like Rainbow Falls and Grotto Falls, there are tons of beautiful sights to explore on this lovely roadway in the mountains. There's even a picturesque roadside waterfall known as "the place of 1000 drips" that you don't want to miss.
To explore other must-see places in the national park, check out this guide of the can't-miss sights in the Great Smoky Mountains.
Map of Must-See Places
Final Thoughts
For more ideas of fun things to do in Gatlinburg, check out this guide of other must-do activities!
Need help planning your vacation in the Smokies? Feel free to contact our helpful reservations office at (865) 436-5031. We'll be glad to answer any of your questions and help you have a truly memorable trip to Gatlinburg and the Great Smoky Mountains!
Written by Hayden Brown