What will you see for your Gatlinburg vacation? Picking a destination to see in the Great Smoky Mountains National Park is no easy task. Luckily, we've assembled the top 15 must see places in the Smoky Mountains!
Once you cross these off your list, you can truly say you've experienced the best sights that America's most visited national park can offer!
15 Must See Spots in the Great Smoky Mountains
1. Newfound Gap
Nestled high on the main ridge of the Smoky Mountains, you'll find Newfound Gap a short drive from Gatlinburg, TN. Visitors to the gap will be treated to spectacular views of the Smoky Mountains, access to the Appalachian Trail, and the monolithic Rockefeller Monument.
2. Clingmans Dome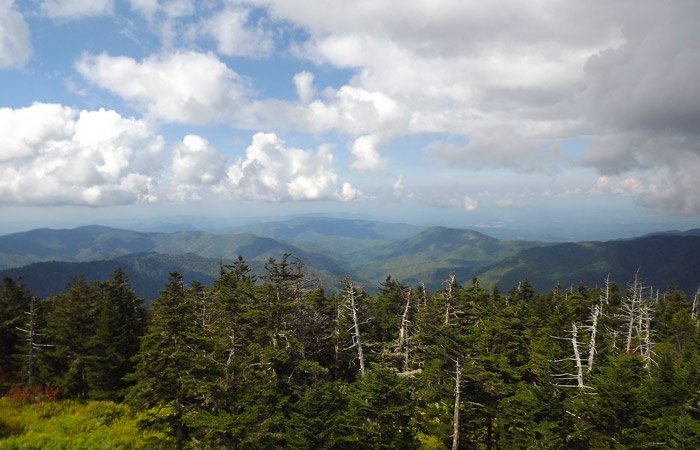 The highest mountain in Smoky Mountains at an elevation of 6,644 ft. This mountain peak can also be reached by taking the Clingmans Dome Road that is open from May to November. At the top, visitors can make the short hike to a stunning observation tower with panoramic views of the Smoky Mountains. On a clear day, it's possible to see six states: Tennessee, North Carolina, South Carolina Virginia, Kentucky, and Georgia.
3. Charlies Bunion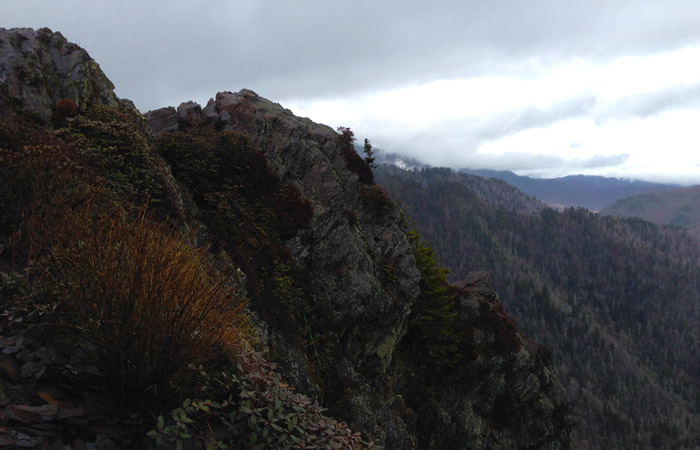 Charlie's Bunion, a popular overlook, can only be reached by making an 8 mile round-trip hike on the Appalachian Trail. While the hike is strenuous, it's hard to find views that are more satisfying. Charlies Bunion itself is an exposed rock that famously resembles a blister or "bunion."
4. Mt. LeConte and Alum Cave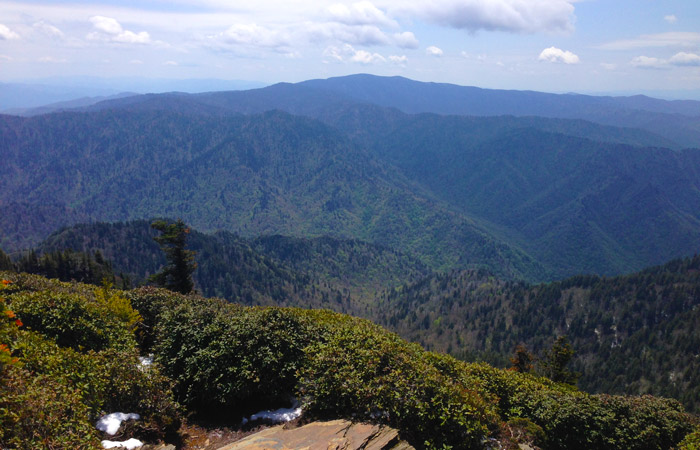 Mt. LeConte is the 3rd tallest mountain in the Great Smoky Mountains National Park at a towering elevation of 6,594 ft. While there are five trails to the summit, Alum Cave Trail is the most popular (and shortest) way to the top.
On the way to the summit, hikers will pass by Arch Rock and Alum Cave Bluffs – 100 foot high bluffs that were important in Cherokee lore and for having rich mineral deposits. Saltpeter was mined from the bluffs and used for making gun powder in the Civil War.
Near the summit, hikers will encounter the LeConte Lodge, the only operating lodge within the Great Smoky Mountains. A short hike further to over looks like Cliff Tops and Myrtle Point will yield impressive views of the Smokies.
5. The Chimney Tops Trail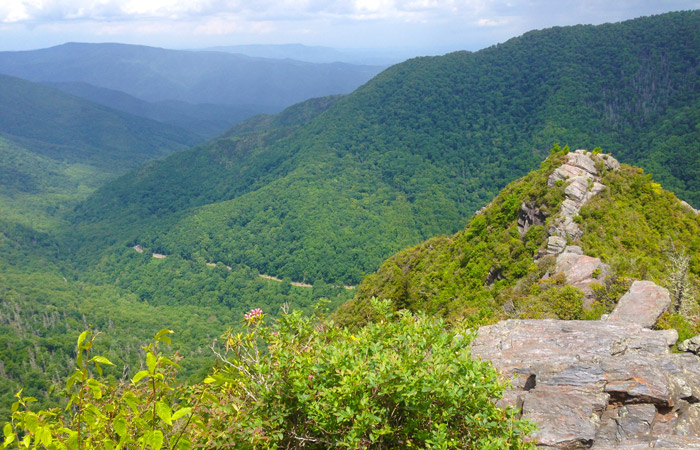 This famously steep trail that leads to the Chimney Tops, has unique rock formations that jut-out from the mountain like chimneys from a roof. This 3.8 mile round-trip hike is strenuous, but can easily be completed in an afternoon. For your hard work, you'll be treated with great views and a gorgeous high elevation spruce fir forest ecosystem.
6. Andrews Bald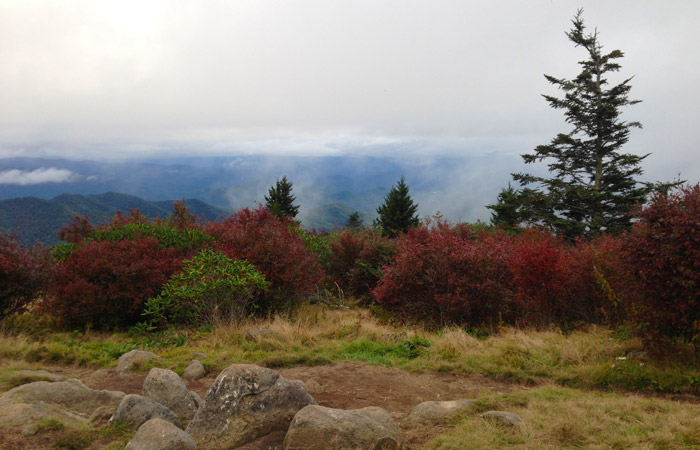 Of the many high elevation fields or balds in the Great Smoky Mountains, Andrews Bald boasts the highest elevation and arguably, the best views. No one is sure of how natural balds formed in the Appalachian Mountains, but no one doubts that fields like Andrews Bald make a terrific picnic spot and a must-see destination.
7. The Sinks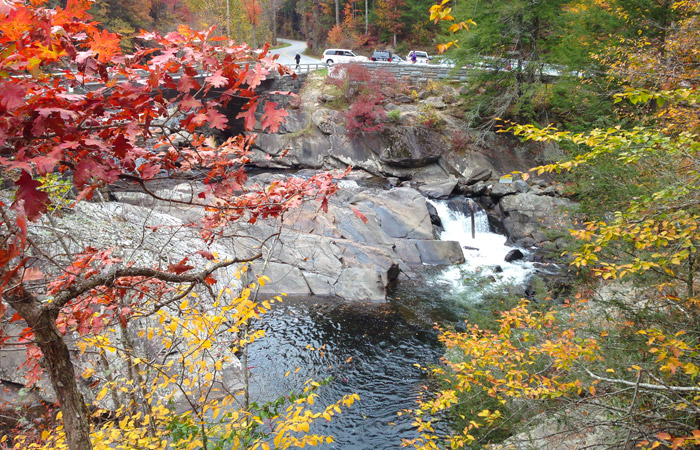 "The Sinks" are a popular series of cascades and waterfalls along the Little River Gorge Road only a few miles away from Gatlinburg. About two miles after Metcalf Bottoms Picnic Area, you'll cross a bridge over this turbulent waterfall that has created a popular swimming hole. Thrill seekers will occasionally plunge down the falls in kayaks. Exercise extreme caution around these falls.
8. Ramsey Cascades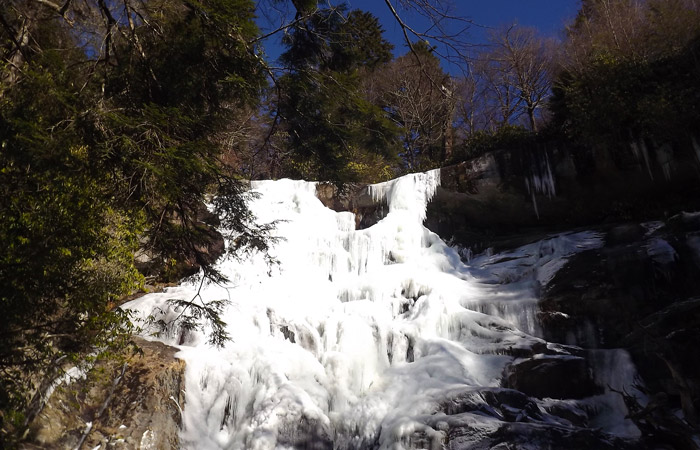 The tallest waterfall in the Smoky Mountains rests in the Greenbrier area of the national park. A 10 mile Ramsey Cascades hiking trail leads to these stunning falls and passes through magnificent old growth forests filled with gigantic yellow poplars, birch trees, and hemlocks.
9. Elkmont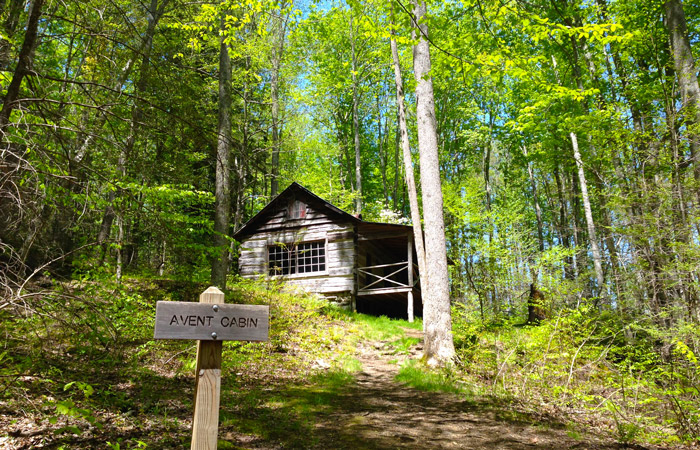 What part of the park has been home to logging camps, ccc work groups, and an exclusive resort community? Visitors today can still see historic sights and structures in Elkmont that remain from a colorful history. In addition for being a great stop for history buffs, Elkmont has several popular hiking trails and beautiful streams ideal for fishing and tubing.
10. Roaring Fork Motor Trail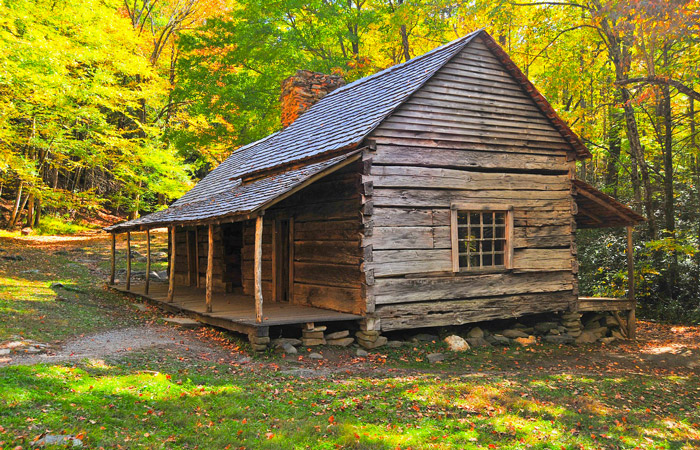 Want to explore beautiful waterfalls and rustic homesteads? This loop road is just your ticket! The Roaring Fork is one of several of Gatlinburg's entrances into the Great Smoky Mountains and offers access to incredible waterfalls and sights like the Noah "Bud" Ogle cabin built in the 1880s. This popular road is closed from December to March.
11. Grotto Falls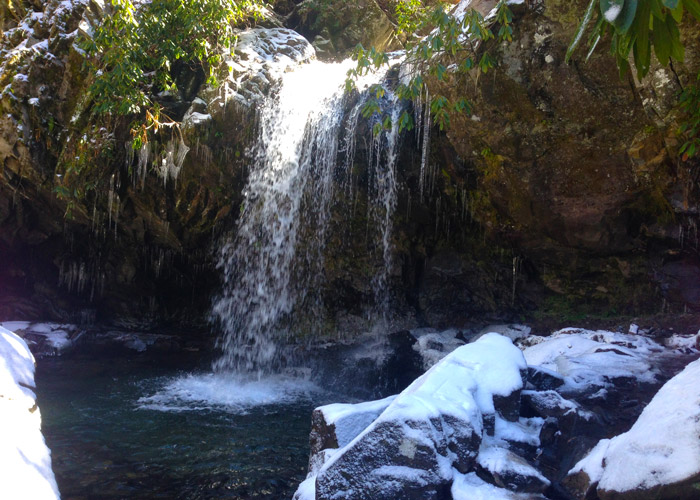 Grotto Falls is a terrific hiking trail for seeing wildflowers and a truly unique waterfall. In fact, the Trillium Gap Trail passes underneath the falls – a great way to cool off in the heat of summer. If you have enough time, this hiking trail also continues to the summit of Mt. LeConte. Laurel Falls Trail is another popular waterfall hike near Gatlinburg.
12. Rainbow Falls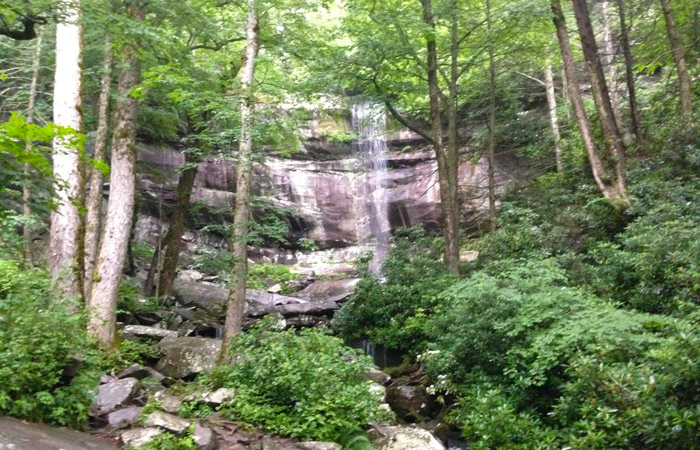 This stunning 80 foot high waterfall known for creating enough mist to form rainbows in bright sunlight. The trailhead for this beautiful waterfall is off of Cherokee Orchard Road. Rainbow Falls is a 5 mile round-trip hike, but it is possible to reach the summit of Mt. LeConte to complete a whopping 14 mile day hike.
13. Cades Cove Loop Road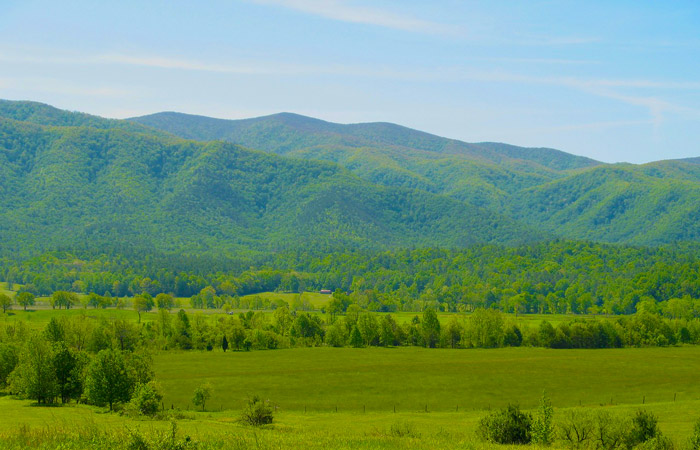 Once a remote valley community, Cades Cove today is easily the most visited and photographed locations in the Great Smoky Mountains National Park. It's no secret why – a combination of old homesteads, churches, mills, wildlife, and spectacular mountain peaks is a must see for nature-lovers and history buffs. The 11 mile loop road offers numerous pull-offs to explore hiking trails and historic sights from yesteryear like a working grist mill.
14. Abrams Falls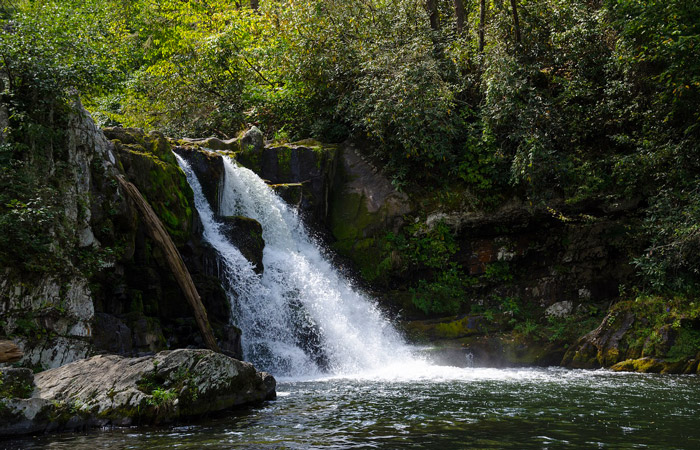 A moderate 5 mile hike leads to one of the most dramatic waterfalls in the Smoky Mountains near Cades Cove. From the trailhead near the halfway point in Cades Cove, hikers will descend down a stunning river gorge to this high-flow waterfall in the park. Otters are known the frequent this section of the river on Abrams Creek.
15. Cataloochee Valley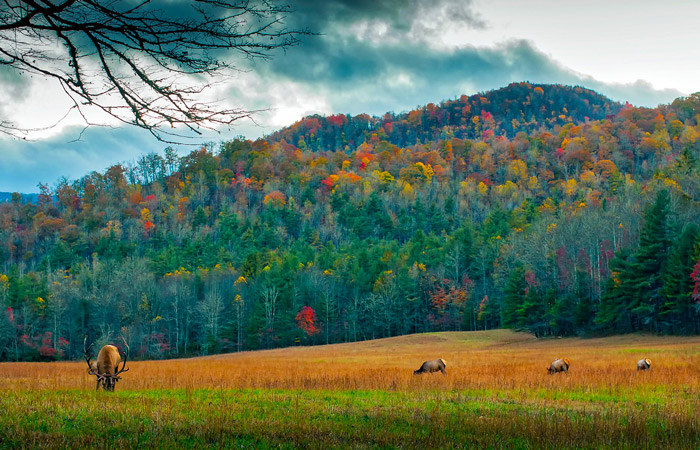 Home to the only Elk herd in the southern Appalachian mountains, Cataloochee in the North Carolina side of the park is a sight worth seeing off the beaten track. Other highlights to see include the Palmer Chapel and Beech Grove School House.
Final Thoughts
Admittedly, it can take many days to experience the best sights in the Great Smoky Mountains National Park. So how can you see as many of these natural wonders as possible?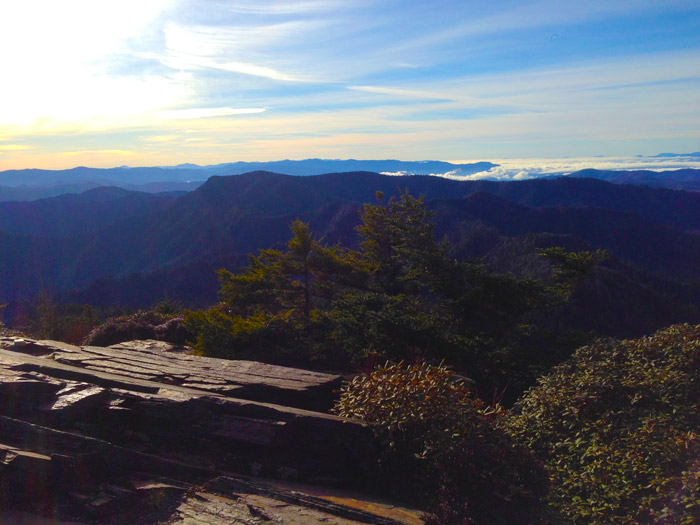 A great way to cross some of these beautiful sights off your bucket list is to book a long cabin vacation in Gatlinburg, TN. Nestled just outside of the national park, there are many Gatlinburg cabins that offer a comfortable home base to plan trips and excursions in the Smokies.
Are there some "must-sees" we forgot to mention? Please comment and let us know! We'd be glad to update the list and include them.
Written by Hayden Brown