The changing of the seasons brings an entirely unique look and feel to the Smoky Mountains. The events, activities, sights, and attractions you can enjoy also shift with the seasons. As a result, a trip to Gatlinburg in August is drastically different from visiting in January.
With this fact in mind, you might have an important question in mind when planning your vacation: When is the best time to visit Gatlinburg, TN?
The answer, of course, depends a lot on personal preferences, but we have some tips to help you decide when you'll visit Gatlinburg and the Great Smoky Mountains! It's best to know the perks and drawbacks of the different seasons to know when is the ideal season for you to visit.
Summer: June – August
Pros
The Attractions Are Open – In the fun-filled summer months, you'll have a huge variety of attractions and activities to choose from. This is especially true outdoor adventures like white water rafting and zip lines that aren't open year-round. Additionally, most attractions, shops, and restaurants have extended hours in the summertime.
See the National Park in Full Bloom - The Great Smoky Mountains National Park in summer is a sight to behold. Clingmans Dome Road is open during this time of year, so you can enjoy panoramic views from the highest point in Tennessee! Wildlife like bear, deer, and turkey are especially active this season.
Summer Weather - Highs in the upper 80s and low 90s give way to pleasant evening temperatures perfect for taking a stroll through downtown. To stay cool in Gatlinburg, go for a swim in the national park or play at Dollywood Splash Country.
Cons
High Visitation - The summertime can also mean big crowds in the Smokies – especially on weekends. Popular destinations like Downtown Gatlinburg, the Roaring Fork Motor Trail, and Cades Cove in the national park are occasionally clogged with traffic. Luckily, vacationers can always find less traveled parts of the Smokies. Booking a secluded cabin is a great way to enjoy your personal slice of the mountains.
It's Hot Outside – While many of us love warm weather, a vacation in the heat might not be suited to the things you want to do on your trip. Strenuous activities like hiking aren't as much fun on a hot day. Luckily, by picking trails in the higher elevations of the park, you can enjoy your hike with much cooler weather and a pleasant breeze.
The Bottom Line: Summer is a fun time to visit the mountains. By taking care to dodge the crowds and stay cool, you're bound to have an excellent stay. If you've never been to the Smokies before, this season offers you the most access to attractions and activities in the Smokies.
Fall: September - November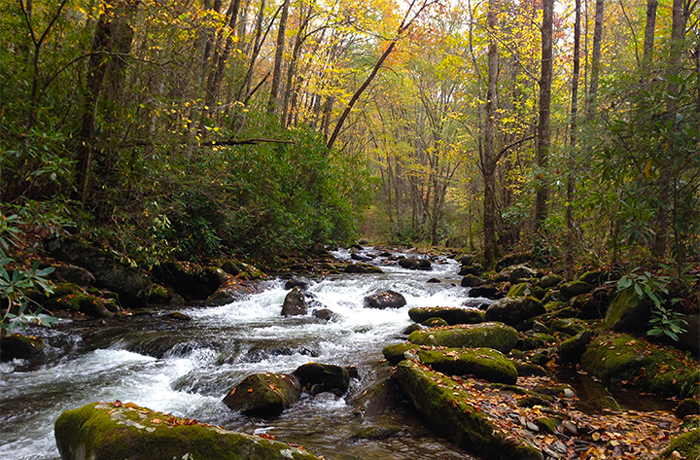 Pros
Fall Foliage – The cooler weather paints the mountains with bright reds, stunning yellows, and gorgeous orange colors in Autumn. Visitors travel from far and wide to enjoy the scenery this time of year.
A Great Time To Take A Hike – All of the national park is open and the weather cooperates perfectly. You can enjoy dry days and cool weather that are perfect for taking a long walk in the woods.
Cons
Crowds – The changing leaves can bring in some large crowds to the national park, especially in October. Luckily, other attractions in Downtown Gatlinburg are often less busy. Altogether, this season is not as packed as the summer.
Bottom Line: Fall is an exceptionally scenic time of year to visit and it's also one of the best times for hiking in the national park. Despite the occasional crowd, this beautiful time of year is an excellent time to explore the mountains.
Winter: December - February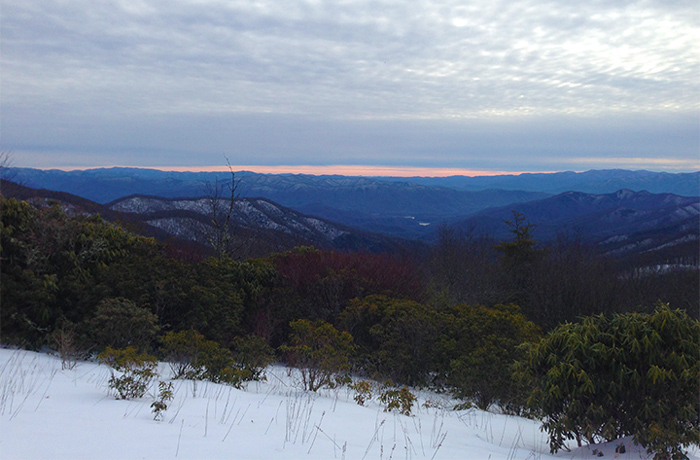 Pros
Christmas Lights Galore – The Smoky Mountains are a beautiful place to spend the holidays, largely because of the beautiful lights displays in Gatlinburg and Pigeon Forge. For decades, both cities have made it a tradition to have some of the most stunning Christmas Lights in the country – come see them for yourself by riding the trolley or taking a romantic evening stroll!
Snow – Come see the mountains blanketed with fresh snowfall! Even though there might not be any snow in Gatlinburg when you visit, a quick trip to the high mountains in the park will transport you to a winter wonderland.
Winter Sports – Though Ober Gatlinburg is a truly year-round destination with plenty of summer amusements, it's worth visiting Ober for the main attraction: downhill skiing and snowboarding. Another popular option at Tennessee's only ski mountain is snow tubing tubing.
Slower Season in the Smokies – With the exception of Thanksgiving to New Years, Gatlinburg isn't too busy this time of year. If you want to experience the Smoky Mountains without the crowds, the winter season is a great time to visit.
Cons
Fewer Outdoor Adventures - Many outdoor adventure companies like zip lines, aerial tours, and horseback riding are closed during the winter season. Winter hiking is always an option, but this requires extra planning and precautions. Some major attractions like Dollywood are closed from January until March.
Cold Weather – Winters in the Smoky Mountains are much colder than much of the Southeast. Bringing a good coat and rain gear is a must in the wintertime.
Road Closures - Several scenic roads in the national park are closed during this time of year. This includes Clingmans Dome Road, the Roaring Fork Motor Trail, and Parson's Branch. Additionally, more roads in the Smokies can close in the event of winter weather.
The Bottom Line: If you're a fan of winter weather, Gatlinburg is a beautiful place during this season. Plus, you can enjoy the winter scenery without having to deal with crowds! On the other hand, vacationers options are somewhat limited options for attractions and outdoor adventures.
Spring: March – May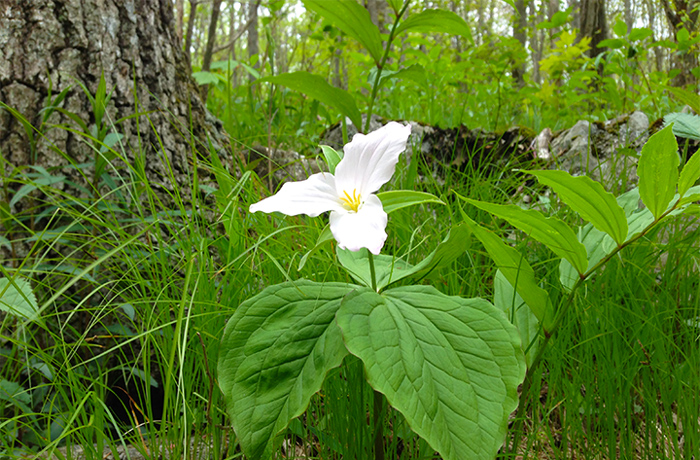 Pros
Wild Flowers – The Smoky Mountains are celebrated for their biological diversity. There are hundreds of flowering plants to see this time of year. There's even an annual Wildflower festival called the "Spring Wildflower Pilgrimage" that draws hundreds of nature enthusiasts to Gatlinburg.
Not Too Crowded – Most vacationers don't choose to visit the Smokies in the Spring, so you'll practically have great attractions, hiking trails, and sights to yourself.
Affordable Cabins – March and April are some of the best times to find deals on Gatlinburg cabins.
Great weather for Getting Outside – There's nothing better than exploring the Smoky Mountains on a beautiful spring day.
Cons
Winter Continued – In the mountains, winter weather can stick around longer than many other places. Big snows in march aren't unheard of, so be prepared for a chance of cold, wet weather in this season.
Bottom Line: Spring is a slower season in the mountains because winter leaves the mountains slowly. If you're up to braving some colder weather, you can enjoy a vacation in the Smokies without the crowds and great access to local attractions.
Final Thoughts on the Seasons in Gatlinburg
There's plenty more to know about the different seasons in Gatlinburg, but this is a good starting point for planning your getaway to the Smoky Mountains. There might not be just one "best time to visit Gatlinburg," but it instead depends on what you want to get out of your vacation.
Since the weather in Gatlinburg varies a lot depending on the season, there are different pros and cons for vacationing at Gatlinburg at different times of the year.
If you need more advice on the best times to visit Gatlinburg, feel free to call our reservations office at (865) 436-5031.
No matter which season of the Smokies you'd like to see, our cozy log cabin rentals are a great way to enjoy a quality stay in the mountains of Tennessee!
When's your favorite time of year to head to the mountains? We'd love to hear your thoughts in our article comments!
Written by Hayden Brown