Tips, Suggestions, and Info For Winter Hikes in the Smokies
Hiking during any season of the year can bring it's own series of rewards and challenges in the Smoky Mountains. Winter hiking in the Smokies definitely has some pros and cons to consider before you venture out into a winter wonderland.
Here's our Smoky Mountain winter hiking guide with tips, suggestions, and trails for seeing the Great Smoky Mountains National Park in winter.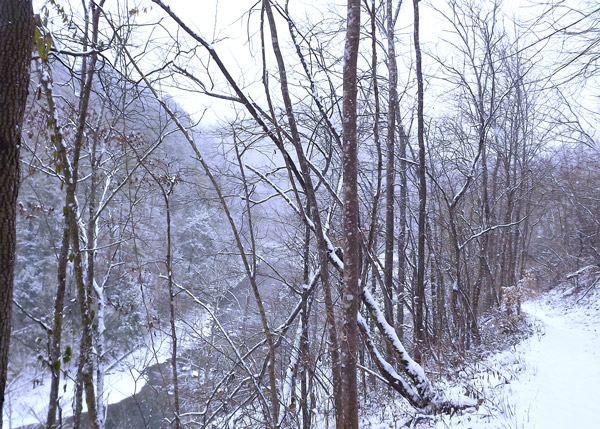 Pros
There are plenty of reasons to enjoy winter hiking in the Smokies. Besides the chance to hike in the snow and see cool ice formations, hikers can likely expect:
Fewer Crowds – The Smoky Mountains are famous for drawing millions of visitors every year and for becoming quite crowded at times. Winter is the slowest season in the national park, so it is the best time to cross some popular trails off your wish list.
Less Leaf Cover – Many hiking trails have far better views once the forests shed leaf cover and underbrush. A trail that you saw in the summer is likely to have even more scenic view opportunities during the cool winter months.
Better Visibility – You can see for miles on a cold, clear day in winter that provides better views than during summer months. More frequent rainfall and clean air from the north helps improve visibility drastically in the Smoky Mountains.
Animals and Pests are Less Active – If you hate mosquitos or live in constant fear of running into bears, winter hikes in the Smokies are perfect for you. There are no bugs or mosquitos to speak of during winter and bears, while not in full hibernation, are harder to find this time of year. Venomous snakes aren't too active in cold weather, but wild boar can be found in certain sections of the park so do proceed with caution.
Natural Beauty – The Smokies change radically with the seasons. With ice formations on waterfalls and snow-capped mountains, the natural beauty of winter can be full force in the mountains. Though the weather can be extreme, the results are often strikingly beautiful.
Cons
Winter hiking in the Smoky Mountains offers a unique set of challenges to bear in mind.
Poor Trail Conditions – The Smokies get a lot of rain and snow during the winter months. Many hikers think trekking through snow will be the most difficult part of a winter hike, but what is more dangerous is ice. Large sections of frozen water can develop on trails, making them hazardous to cross. This is especially true for trails along the high peaks like the Appalachian Trail that straddles many mountain ridges. Take your time and tread carefully over ice. Bringing a walking stick or trekking poles may also be a good idea.
Cold Temperatures – Rainy, cold, icy: these are all words that can describe winter in the Smokies. Hiking in the rain can be unpleasant during anytime of year, but when the temperature is close to freezing, hikers can risk hypothermia. As hikers reach higher elevations, the weather can become even more extreme with colder temperatures, higher winds, and colder wind chill. For every 1000 feet of elevation gained, the temperature will drop 3.5 degrees Fahrenheit on average.
Streams and Rivers – The water levels are generally higher in during the winter. Stream crossings without bridges are often only a series of stepping stones that can easily become submerged. There is also a risk of falling into the water can make for a miserable and potentially dangerous hike.
Road Closures – After a weather event like a snowstorm or ice storm, it's likely that roads in the higher elevations of the park will be closed. The Clingman's Dome Road is closed for the whole season and sections of Newfound Gap Road may be closed periodically. Such an event can make it impossible to reach your desired trail trailhead. Be sure to stay up to date on road closure information and weather information by calling the park service at (865)-436-1200.
Less Daylight – As the days grow shorter, so does the time you have to hike in the daylight. Many trails in the national park are quite long and require several hours to complete. Be sure to get an early start on your hike so you can enjoy the outdoors with the added warmth of the sun and a safe hike with daylight. A good rule of thumb is to estimate your hiking time. For example, your average pace might be 45 minutes for one mile of trail, so a 5 mile trail might take 3 hours and 45 minutes to complete.
Great Winter Hikes
There are plenty of pros and cons to hiking in the Smokies. Many of the potential difficulties and discomforts can be avoided with planning and preparation. Another way to enjoy a successful hike is to pick a trail that is less challenging and even more spectacular during the winter season. Many of these trails are at lower elevations, boast shorter distances, and are generally less exposed to the elements.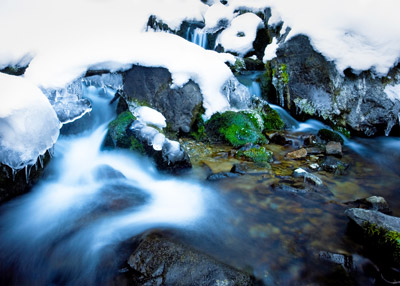 Rainbow Falls – This popular winter hike features a stunning waterfall. During the winter, water levels are generally higher and the flow of the falls is even more impressive. Combined with cold, below-freezing nights, this waterfall will produce huge icicles and frozen formations. This trail is close to Gatlinburg and is a 5.4 mile round trip hike. Past the falls, hikers can continue to the peak of Mt. LeConte, but this would be a 13 mile hike round trip.
Laurel Falls - One of our easy hikes in the Smokies, Laurel Falls is an easier hike in the Smoky Mountains and features nearly 80 feet of cascading water. It is truly a sight to behold when the falls are frozen.
Ramsey Cascades – This challenging 8 mile hike leads to the tallest waterfall in the Smoky Mountains. Though the trail involves a continuous climb and a few stream crossings, much of the trail is well maintained and safe to traverse in winter.
Middle Prong Trail – This wide, level trail follows an old roadbed and is wide and level. The Middle Prong Trail is located at the end of Tremont Road. There are several opportunities to see waterfalls and cascades that are gorgeous in cold weather. Hikers will also pass by some old homesteads and evidence of logging camps that once thrived along the river.
Trillium Gap Trail – Located on the Roaring Fork motor trail, hikers can take the Trillium Gap trail to Grotto Falls, a 3 mile round trip hike to a 25 foot waterfall. On the way, hikers can explore an old growth forest and a babbling creek.
Safety Tips
Let someone Know Where You Go – Informing a friend or a family member where you will be hiking is always a good idea before venturing in the Smokies. Give them an estimated return time and let them know your exact trail route.
Stay on the Trail – Keeping on the marked trail is the best way to avoid injury or becoming lost. This is especially true when exploring waterfalls, since there are often slippery rocks and heights to contend with.
Watch the Time – Since days are shorter during the winter, it is important to time your hike so that your group isn't caught on the trail after dark. Be sure you have enough time to complete your round trip hike before sundown. If your chosen hike is too long, pick an appropriate turn-around time so you can enjoy a safe and stress-free walk in the woods.
Check the Weather - This can be the difference between a fantastic experience and a miserable one. Avoiding poor weather like rain can make your hike far more enjoyable during the cool winter months.
Stay Dry – Bringing a rain jacket and water proof boots is a must if you plan to venture out into in wet weather. Not only is brining the proper gear more comfortable, but it also can prevent the risks of hypothermia. Keeping yourself dry is the best way to regulate your body temperature and enjoy the Smoky Mountains to the fullest!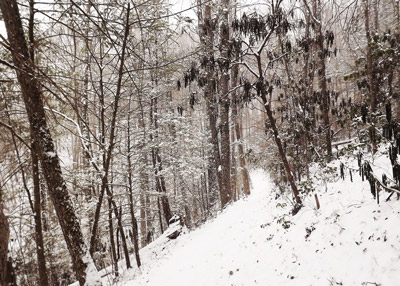 Stay Hydrated – Bringing enough drinking water is often overlooked regardless of the season. A steady workout like a rewarding hike in the mountains requires plenty of water.
Bring Layers – Depending on the day and trail elevation, weather conditions can vary widely in the mountains. From sub-freezing temperatures and snow to 65 degrees and sunny, there is a lot to be prepared for. Bringing layers of clothing that you can add or shed as needed is a necessity during winter hikes in the mountains.
Bring a Cell Phone – Cell coverage is spotty throughout the park, but it is possible that you can pick up cell signal in the case of an emergency.
Navigation – A map is extremely important in the Smoky Mountains. Signage in the backcountry can be unclear at times and a proper map can save you miles of unnecessary walking. Maps and other gear can easily be picked up at the NOC in Gatlinburg.
Final Thoughts on Winter Season Hikes in the Smoky Mountains
Though winter hikes have their share of challenges, it is a terrific opportunity to see the mountains transformed by the snow and ice. By taking the proper precautions, gear, and discretion, you can enjoy winter adventures in the Smoky Mountains safely and comfortably. After you finish a successful day on the trails, you can warm up by the fire in your very own cabin rental in Gatlinburg, TN.
Written by Hayden Brown