Planning on being in Gatlinburg on Easter Weekend? There are lots of fun events and activities for celebrating Easter in Gatlinburg! From moving sunrise services to crafts shows to Easter egg hunts, the Smoky Mountains are a great place to spend Easter.
Better yet, since Easter always falls on a Sunday between March 22 and April 25, you'll be able to see the Smoky Mountains during the lovely spring season. In fact, the Smoky Mountains is so famous for it's diversity of flowering plants that it's been called "The Wildflower National Park." Needless to say, you won't regret seeing Gatlinburg and the national park in full bloom!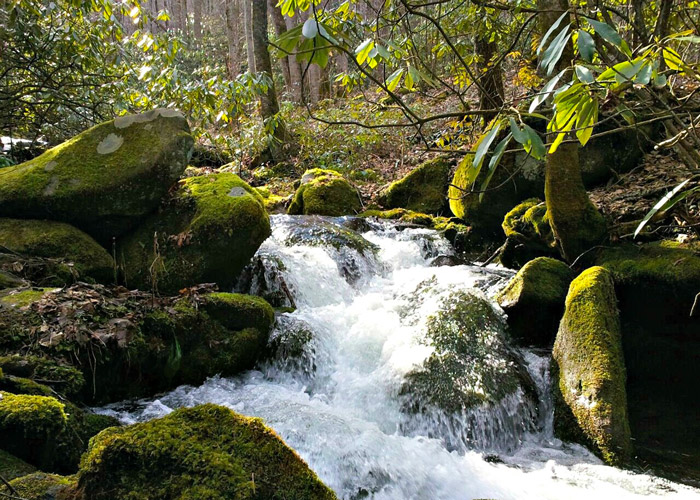 Ready to get the most out of your Easter weekend in the Smokies? Simply check out these 5 Easter events & activities in Gatlinburg and the Smoky Mountains!
1. Easter Arts & Crafts Show
Every Easter weekend, the local artist and craftsperson community in the Glades area of Gatlinburg hosts a free crafts show at the Gatlinburg Convention Center!
For your Easter Weekend in Gatlinburg, you can see beautiful pieces of handmade art and old-fashioned crafts created by craftspeople in the Smoky Mountains. Other highlights include live craft-making demonstrations where you can watch artists as they shape beautiful pieces of art out of clay, cloth, wood, metal, and glass using old techniques from days gone by.
2. Brunch with the Easter Bunny
Who wouldn't want a chance to eat breakfast or brunch with the Easter Bunny? This annual event is held on Saturday before Easter at the Old Mill Square in Pigeon Forge.
To bring your kiddo to meet the Easter bunny for breakfast, you'll need to make a reservation with the Old Mill in Pigeon Forge. This breakfast also includes door prizes and other activities that your kids will love. The Old Mill begins taking reservations for the event in February or March.
Even if you can't make it to the breakfast, there will also be a free Easter egg hunt nearby in Patriot Park in Pigeon Forge!
This Easter Egg hunt begins at 10:00 AM and children up to 12 years of age are invited to participate.
3. Attend a Local Church Service
Looking for a house of worship in Gatlinburg to observe the Easter Holiday? Here are places where you can find Easter services in Downtown Gatlinburg, TN:
First United Methodist Church
First Baptist Church
St. Mary Catholic Church
Trinity Episcopal Church
4. Go On a Spring Wildflower Hike
March and April are beautiful months to visit Gatlinburg and the Great Smoky Mountains. For Easter, a holiday celebrating the renewal of life, why not see the beautiful sights of spring in the national park?
From vibrant wildflowers to amazing wildlife, there are lots of natural wonders to see in the national park during spring. For a great Easter Day hike, we recommend the Baskins Creek Trail or exploring sights along the Cades Cove Loop Road. For more spring hiking suggestions, be sure to check out our wildflower guide.
5. Easter Sunrise Service at Ober Gatlinburg
For a truly unique Easter experience, you can celebrate Easter outdoors on a mountain top with beautiful views of the Smokies!
Every year, worshipers gather to watch the sunrise from Mt. Harrison and Ober Ski Mountain while they attend an Easter Service.
This service runs around 30-40 minutes and is lead by pastors from the Gatlinburg Ministerial Association. A collection during the service will go towards helping local needs in the community.
This event is free to attend, but you'll have to set your alarm clocks early. As for reaching the service, worshipers have a couple options for getting to the mountaintop.
First, there are free tram rides to Ober Gatlinburg from downtown beginning at 5:30 AM. This tram is located at 1001 Parkway #2 in Gatlinburg and trams are scheduled to depart at:
5:30 AM
5:45 AM
6:00 AM
6:15 AM
If you'd prefer to drive, complementary parking is also available at the Ober Gatlinburg Ski Lodge.
The Easter Sunrise Service begins at 6:30 am and it features a beautiful view of the mountains in the background.
Following the service, a breakfast buffet will be served at the Seasons of Ober Restaurant from 7:15 AM to 10:30 AM.
Breakfast prices are as follows:
Adults 14.95 + tax
Children (10 & Under) – 12.95 + tax
Infants (4 & Under) - Free
Final Thoughts
Have you ever spent Easter in the Smoky Mountains? What was your favorite part about your trip? We'd love to hear about it in our comments section.
If you'd like to plan your own Easter trip to the Great Smoky Mountains, feel free to contact our helpful reservations staff to help you find the perfect cabin for your Easter vacation!
Written by Hayden Brown