Ready for a great night on the town in Gatlinburg, TN? Whether you're visiting the Smokies with friends or just want to enjoy some vacation time away from the kids, there plenty of great spots to find entertainment when the sun goes down!
You'll find plenty of nighttime energy in Downtown Gatlinburg. Just by taking a stroll on the main drag, you're bound to find a hot spot to enjoy your evening. Better yet, you can use our guide to find the right late night fun for you in the Great Smoky Mountains!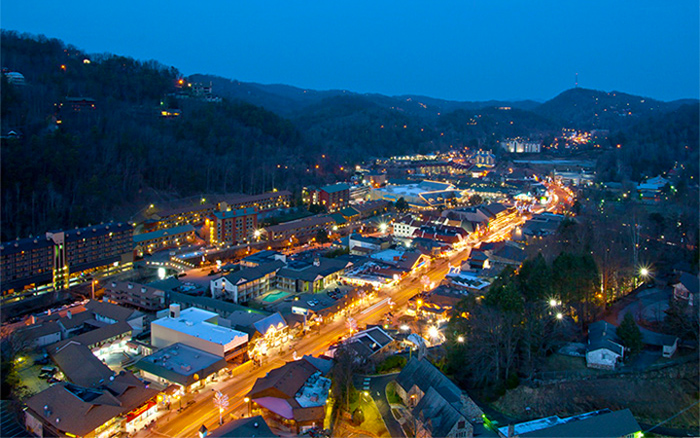 Late Night Restaurants, Bars, and Clubs in Gatlinburg
For a sleepy mountain town Gatlinburg has a lot going on. Visitors shouldn't expect a nightlife scene on par with larger cities, but there are plenty of fun restaurants and bars to enjoy a night out with friends.
Most late night places in Gatlinburg have a sports bar feel, but there are also several laid-back venues that are perfect for relaxing with friends, listening to live music, and enjoying a refreshing beverage.
Club 812 - Open Till 1 AM on Weekends
Gatlinburg's only dance club is located in Blaine's Grill and Bar in Downtown Gatlinburg. This restaurant is turned into a nightclub around 10 pm and features a DJ, a large dance floor, and a nice upstairs balcony with views of downtown. Club 812 has a small cover charge but you can enter the club for free if you purchase dinner. This club is 21 & up and perfect for a group of friends looking for fun downtown.
Smoky Mountain Brewery – Open Till 1 AM Nightly
This local craft brewery is a local favorite in East Tennessee. This popular restaurant is a great live music venue with performances several nights a week. Team trivia and open-mic nights also draw crowds to Smoky Mountain Brewery. Food prices are reasonable and they offer a great selection of local micro brews, wine, and cocktails. Try the Velas Helles or the Chrokee Red Ale. Guests will also enjoy a nice bar area that's ideal for watching sports.
Dick's Last Resort – Open Till 12 AM on Weekends
You'll find drinks, cocktails, and food served late night at this Gatlinburg bar & grill on the strip. This themed restaurant also brings lots of sass and witty banter from servers. Come for personalized hats, funny jokes, and a unique dining experience and stay for tasty food and an impressive bar selection.
Crawdaddy's Restaurant & Oyster Bar - Open Till 1 AM Nightly
Located near the Gatlinburg Space Needle, Crawdaddy's in Gatlinburg is yet another late night restaurant. Guests love balcony above the parkway that offers a prime spot for people watching. Karaoke on the weekends is a popular entertainment for groups of friends. This restaurant offers seafood, Cajun cooking, steak, pasta and oysters.
Hog's Upstairs Taverne – Open Till 1 AM Nightly
This Gatlinburg bar and restaurant is located right on the strip and is one of the last establishments that allow smoking indoors. Formerly known as Hogg's and Honey's Saloon, this 21 & up sports bar is great for people watching or enjoying a round of pool. Hog's is known for its upstairs balcony with nice views of downtown and its delicious barbecue and wings.
Mellow Mushroom – Open Till 1 PM on Weekends
Mellow Mushroom is well-known for delicious pizza, sandwiches, and a good beer selection. Located near the Ole Smoky Moonshine Holler, Mellow Mushroom in Gatlinburg has a good bar for watching the game.
Davy Crockett's Distillery – Open Till 11 PM Nightly
Davy Crockett's in Gatlinburg is the last distillery in Gatlinburg to close down at night. Swing by here to sample some authentic Tennessee whiskey and maybe purchase a bottle to enjoy responsibly back at your log cabin rental.
Nighttime Attractions and Activities
For some evening family fun or more great adventures with your group, try these fun things to do at night in Gatlinburg, TN!
Ripley's Haunted Adventure - Open till 12 AM
Enjoy a late night haunted house in the heart of Gatlinburg that's utterly terrifying. Ripley's is open later in the summer months, but you can enjoy shrieks and thrills at this nighttime attraction year-round!
Ghostwalk of Gatlinburg – Midnight Tours
This popular ghost tour of Gatlinburg offers tours year-round at 9:00 pm, 10:30 pm, and 12:00 am. Learn local folklore, legends, and ghost stories and enjoy a spooky night strolling the streets of Gatlinburg. Who knows, you may even meet a local ghoul!
Gatlinburg Space Needle - Open Till 12 AM
See the lights of Gatlinburg from the best observation point in town! This attraction is open till midnight and it's also great way to finish a fun night in Gatlinburg. For a free nighttime of view, there is an overlook on the Gatlinburg Bypass that offers impressive views of the lights of the town below.
Davy Crocket Mini Golf - Open Till 12 AM on Weekends
Yet another fun way to enjoy some late-night Smoky Mountain fun is to play mini-golf when the sun goes down. This family friendly entertainment is a hit with all ages and is good clean fun that's even better with friendly competition.
Treasure Quest Mini Golf - Open till 11:30 PM Nightly
Play mini-golf at this fun indoor course with a fun Indiana Jones theme. This nighttime attraction is located right on the main drag in Gatlinburg.
See Brilliant Stars at Newfound Gap
Newfound Gap is located in the heart of the Great Smoky Mountains National Park. Because 800 square miles of wilderness surround this parking area and scenic overlook, you can see the night sky with minimal light pollution. Pick a clear night and take the short, scenic drive to enjoy some prime star watching in America's most visited national park.
Tips For Gatlinburg Nightlife
Start Early – Gatlinburg is still a small town and tends to go to bed earlier than larger cities. Starting your evening on the town earlier than you might otherwise is the best way to ensure you have a good time.


Hours Can Vary – Most nighttime restaurants, bars, and attractions close earlier in the off-season from September to April. Calling ahead is a good way to avoid disappointment in case a restaurant or attraction is closed.


Go Out on Weekends – Most of Gatlinburg's nightlife can be found on weekend evenings in the summer. Spring break weeks in Gatlinburg also draw bigger crowds downtown.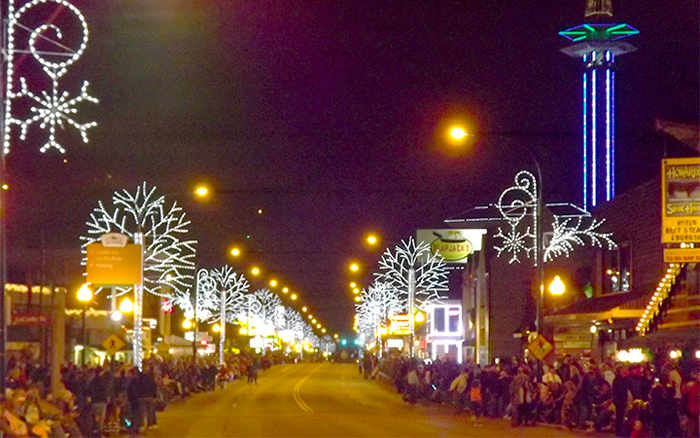 After a great night on the town, return to your comfortable cabin rental in Gatlinburg to rest up before another day of adventure in the Great Smoky Mountains of Tennessee!
Did we miss anything? Share your favorite late night things to do in Gatlinburg in our comments section at the bottom of our page!
Written by Hayden Brown